Conference Schedule
Check this page often for updates on conferences and workshops.
Workshops
If you are interested in a Scientific WorkPlace, Scientific Word, or Scientific Notebook training workshop for your group, please contact one of the presenters below. The workshops are independently run by experts in the use of our software. Though the workshops are not affiliated with MacKichan Software, we highly recommend the following presenters and consistently receive rave reviews from attendees of their workshops.
Scientific WorkPlace, Scientific Word, and Scientific Notebook
Professor Jonathan Lewin, Ph.D.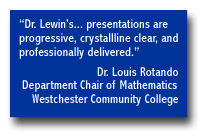 Seminars, workshops, and training sessions by Dr. Lewin are available at professional conferences and, by arrangement, at individual campuses of high schools, colleges, and universities.
Scientific Notebook: This presentation introduces the editing, Internet and computing features of Scientific Notebook documents. It also covers the publication of mathematical material on websites and how Scientific Notebook can be used as an electronic whiteboard in the classroom.
Scientific WorkPlace and Scientific Word: This presentation introduces the editing and typesetting features of Scientific WorkPlace and Scientific Word. Participants will be trained in the production of documents that will be printed as professional quality hard copy or submitted to an editor for publication.
Each participant will be given a CD containing sound movies that review the material covered in the workshops. Contact Jonathan Lewin for details at lewins@mindspring.com or 770-973-5931.
Thomas Price, Ph.D.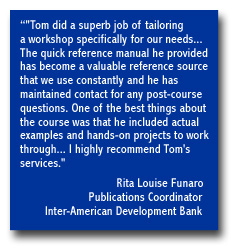 Dr. Price uses Scientific WorkPlace for producing course materials, administering Exam Builder quizzes using both direct and internet delivery, and consulting. He has trained many students on its use, typeset several journal articles and a mathematics book using Scientific WorkPlace, and serves as a consultant for Scientific WorkPlace, Word, or Notebook and offers workshops for them.
Workshops normally cover the features of the Scientific WorkPlace/Word/Notebook editor, creating professional quality documents and presentations using Scientific WorkPlace/Word, and using the Computer Algebra system in Scientific WorkPlace/Notebook. Workshops are tailored to fit the client's needs. Handouts that serve as references during the presentations and as fact sheet reminders afterwards are provided. Hands-on projects for participants to complete during the presentations are also included. Video descriptions of each workshop can be found at http://www.sitextools.com/17701.html.
Sample files created with Scientific WorkPlace and videos of Dr. Price's work can be seen by clicking the Samples link on www.sitextools.com. Contact Thomas Price for details at tom@sitextools.com.
Professor Bill Pletsch, Ph.D.
Dr. Pletsch has been using computer algebra systems since the early 1980s. He is available for workshops and training sessions on the use of Scientific WorkPlace and Scientific Notebook as a research and teaching aid.
The workshops and training sessions begin with a demonstration of the capabilities of Scientific WorkPlace/Notebook. The introductory demonstration is followed by a thorough nuts and bolts hands-on session on the basics. Participants learn how to compute numerically and symbolically, graph, and manipulate data. Also included are word-processing, Internet techniques, and utilizing other resources. More advanced topics include the use of Scientific WorkPlace/Notebook in the classroom and in the preparation of computer classroom lectures and demonstrations.
An overview of computer algebra systems and why every teacher of mathematics should own a copy of Scientific Notebook will accompany the presentation. Included in the workshops will be a CD on the electronic delivery of mathematics instruction. No prior computer experience is required. Contact Bill Pletsch for details at bpletsch@tvi.edu or 505-224-3672.
---