Document 463
The LaTeX array package
Version: 3.x, 4.x, 5.x - Scientific WorkPlace & Scientific Word
The array package extends the implementation of the LaTeX array and tabular environments by providing options for column formatting, including lines and paragraph indention. You can use the package to achieve alignment within cells, like this: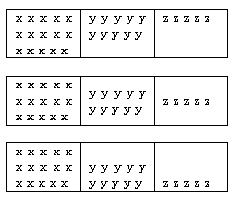 You can also obtain special effect using vertical rules with variable widths:


and you can format paragraph indention within cells:


The package provides other column spacing capabilities.
The package has no options, so after you add the package you must enter commands for the entire tabular environment in an encapsulated TeX field. See the package documentation for instructions and for additional examples of package effects. The package is installed in the TCITeX/TeX/LaTeX/required/tools directory and is part of the Standard LaTeX Tools Bundle.
Last revised 01/20/06
This document was created with Scientific WorkPlace.