Document 535
The LaTeX wrapfig package
Version: 3.x, 4.x, 5.x - Scientific WorkPlace & Scientific Word
The wrapfig package allows text to be wrapped around floating objects at the side of the page. The package provides two environments, wrapfigure and wraptable. These environments are not regular floats and may print out of sequence, but accompanying captions are correctly numbered. The package has one option available through the Options and Packages command on the Typeset menu that controls whether to print information in the .log file.
This example, taken from Typesetting Documents with Scientific WorkPlace and Scientific Word, illustrates the effect of the wrapfig package: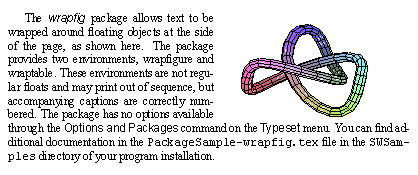 You can find additional documentation in the PackageSample-wrapfig.tex file in the SWSamples directory of your program installation. The wrapfig package is installed in the TCITeX/TeX/LaTeX/contrib/misc directory.
See also
Lat revised 06/13/06
This document was created with Scientific WorkPlace.